The King Charles Troupe
is a group of young men out of the Southeast Bronx, New York, who play an unbelievable game of high-energy basketball on unicycles in a "Razzle Dazzle" style. It's a deft display of one-wheeled wonderment as they dribble, pass, shoot, and weave their way through the world's wittiest, wackiest game of basketball. The troupe has thrilled audiences all over the world with its high-jinx and comedic antics, and has been in existence for decades.
"Every performance is different…Our routines are built on improvisation, and nobody – not even me – knows exactly what will happen next." – Director Floyd
How We Began
The Circus is in Town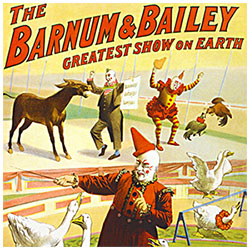 A young man by the name of Jerry L King attended the circus in his hometown of Tampa, Florida in 1918 and was captivated by the high-wire act of the unicyclists. What he experienced that day sparked a dream. It would take another 40 years for the dream to come to fruition when he formed The Charles Riders (known today as The King Charles Troupe) a group of young African American kids who performed dazzling acts while riding unicycles.
From Father to Son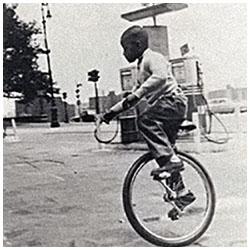 Mr. King first taught his 6-year old son Charles how to ride; their practice arena was the hallway of their apartment building. When the weather turned nice they moved outside to the local park where Charles showed his skills to the other kids in the neighborhood. Mr. King opened his home and heart, and shared his talents with other children who wanted to learn how to ride.
Unicycle Club to Troupe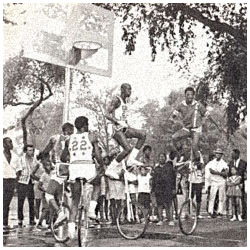 In 1958, concerned with the social evils in his community Jerry King started a unicycle club and laid down a foundation based upon discipline, direction, and Christian principles. The club, based out of the South Bronx, eventually consisted of 100 kids, and used it as an opportunity to build character and prevent them from becoming at risk. From this club, The King Charles Troupe was born.
Joining "The Greatest Show on Earth®"
The First Audition Took Place in 1968… On a sidewalk outside Madison Square Garden in New York City. There, under the direction of their mentor, Jerry King (whom they still refer to affectionately as Mr. Jerry) they demonstrated their unicycling and basketball passing skills to then Ringling Bros. and Barnum and Bailey® producer Irving Feld. The visionary Mr. Feld sensed immediately that the raw energy of these charismatic young athletes from the Bronx could be shaped into a high-quality production. The King Charles Troupe made its triumphant Ringling Bros. ® debut one year later, and thereafter continued to perform in The Greatest Show On Earth® for an astonishing 18 consecutive years!

Tragedy Strikes the Troupe
Then in 1991 tragedy struck: Three members of the troupe, including its leader, Charles King (son of Mr. Jerry), were killed in a car accident. For a time, it looked like as if the King Charles Troupe would dissolve. But its survivors regrouped, and new members were recruited. Now under the direction of Floyd "Sweets" Harrison, one the group's founding members, the next generation of the King Charles Troupe – KCT, Inc. – joins The Greatest Show on Earth® for its 127th Edition!
The King Charles Troupe Today
The King Charles Troupe is currently performing on the Gold Unit of Ringling Brothers Barnum and Bailey Circus. Under the direction of the Family, the leadership of the Troupe is comprised of Floyd "Sweets" Harrison as the General Manager, Kim "Kip" Anthony Jones and Greg Rone as Troupe Leaders. Consisting of 10 irrepressible troupe members ranging in age from 18 to 51, the troupe treats audiences to a deft display of one-wheeled wonderment as they dribble, pass, shoot and weave their way through the world's wittiest game of basketball. "Every performance is different," comments Floyd "Sweets" Harrison. "Our routines are built on improvisation, and nobody – not even me – know exactly what will happen next." In and out of the spotlight, the King Charles Troupe members pay homage to their mentor, who died in 1996 at age 88. "This troupe is all about living the ideals of the character and integrity that Mr. Jerry taught us said Harrison We've had rough times, but they've only deepened our faith in those ideals."